– SOLD –
TR Town Trash
2016 Sorrel Stallion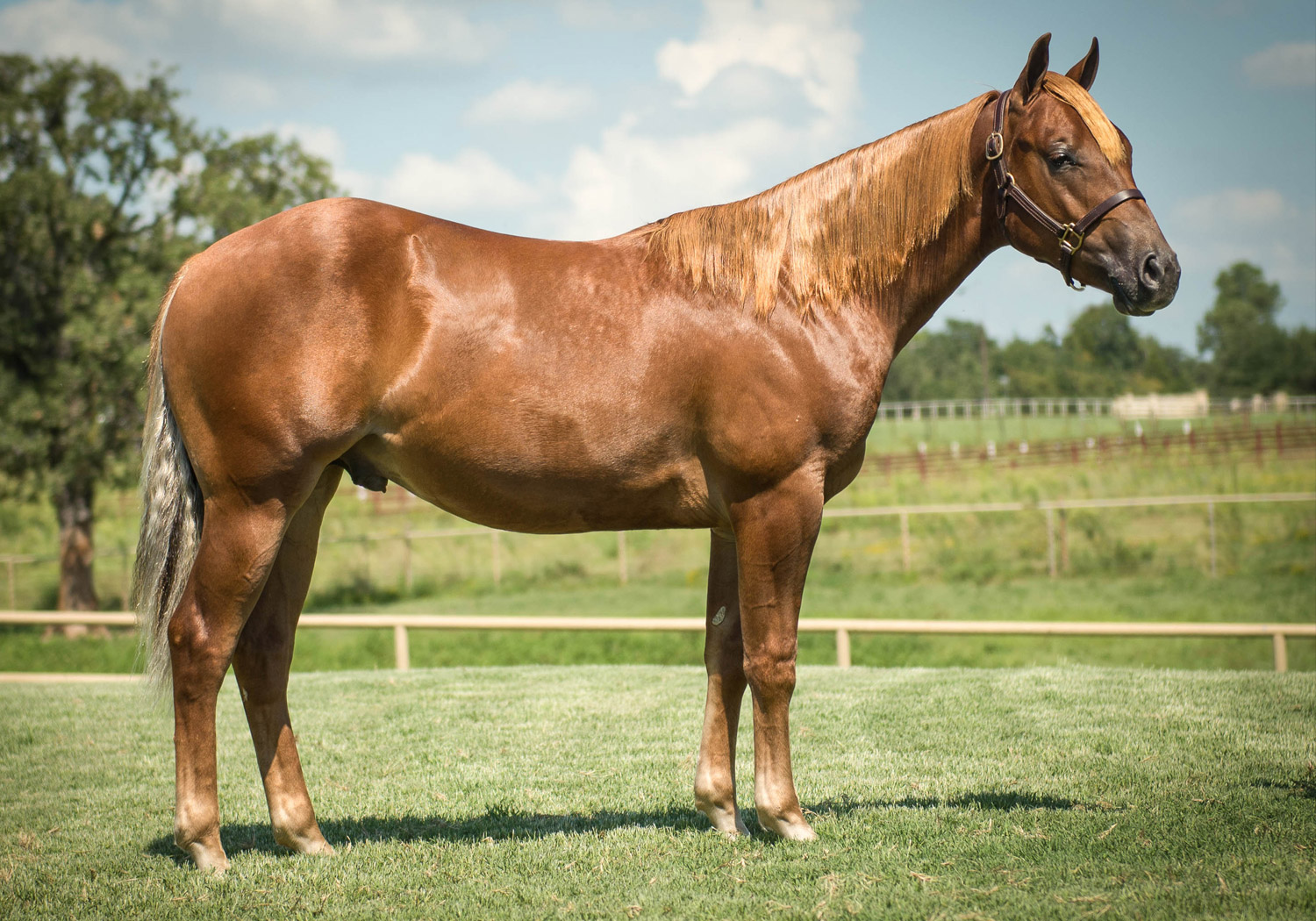 Consigned to the Legacy Reining Breeders Sale
Hip #226

SIRE
By HOLLYWOODSTINSELTOWN (2004) Earner of 30 AQHA points and $185,886: 4th, 2010 NRBC Open; NRHA Derby Open Reserve Champion and Interm Open Champion; 2009 NRBC Interm Open Champion; finalist in the 2008 NRBC Open; AQHA ROM. NRHA Million Dollar Sire; 2016 Equi- Stat, #3 Leading Junior Reining Sire; top 10 for Current Year (2017) NRHA Leading Sires; sire of offspring earning in excess of $1.1 Million including TINSELTOWN FLY GUY ($276,547: NRHA Futurity Open Reserve Champion and top 10, NRBC Open); SMOKINGHOT HOLLYWOOD ($87,107: top 10, NRHA Futurity Open).
FIRST DAM
Ultra Trashy Chic (Gunnatrashya) Dam of 2 registered foals, neither is performance age.
SECOND DAM
Ladys Ultra Chic (Smart Chic Olena) Earner of 20 AQHA points and $277: NRBC Day 2 Ltd Open Reserve Champion; 3rd, Texas Classic Rookie; RHANW Slide In Rookie Champion; AQHA ROM. Dam of 4 offspring earning $73,265 including –
SMARTEST SHINER YET (Smart Shiner) Earner of 5.5 AQHA points and $36,184: Hungry Horse Summer Open Co-Reserve Champion; Hollywood Charity Horse Open Reserve Champion and Interm Open Champion; Washington RHA Classic Day 1 Open Champion; split 4th, Reining By The Bay Interm Open.
CHICOUTIMI (Nijomi Sonny Reb) Earner of 60 AQHA points and $32,395: 3rd, Woosley Hall of Fame Non-Pro and 3rd in the Interm Non-Pro; split 4th, Jividen Spring Slide Non-Pro and split 4th in the Interm Non-Pro; AQHA ROMs.
Ultra Shine (Shiners Lena Doc) $4,282 and 20 AQHA points: fi nalist in the IRHA Futurity Open and top 10 in the Interm Open; split 4th, Italian RHA Derby Ltd Non-Pro; split 5th, Italian RHA Maturity Interm Non-Pro and split 3rd in the Ltd Non-Pro; AQHA European Champion Reining; AQHA High Point Intl Reining; AQHA ROM.
Ultra Fine Shine (Smart Shiner) Earner of $404 and 2 AQHA points: YRHA Summer Spectacular Level 1 Non-Pro.
Ultra Jay (Master Jay) Dam of 5 offspring earning $41,014 including – ULTRA SPOOKIN $28,583: Austrian Eurofl ex Classic Interm Open Champion. Ultra Nic $7,022: Saskatchewan RHA Futurity Open Champion.
[vc_empty_space height="50px" image_repeat="no-repeat"]